Georgia Traditional Cast Iron Radiator - 2 Column 740mm High
SKU: 29069
Slim traditional Arts and Crafts design 2 column cast iron radiator, great for small spaces
UK Delivery
For all Victorian radiators and towel rails ordered, UK mainland delivery cost: £78.00
Share this product
Product Information
Our Georgia 2 column cast iron radiators are a slim traditional Arts and Crafts design. These slim radiators offer a great solution where space is short.
The choice of heights and columns within the Georgia range provides plenty of alternatives for low window spaces and attic rooms as well as the larger taller wall hung radiators required for hallways and large reception rooms. The Georgia 2 column slim cast iron radiators come in a choice of 3 heights: 490mm, 640mm, 740mm and 1040mm.
Radiator depth 90mm.
Supplied primed/undercoated unless painting/finishing added to the basket at checkout.
Dimensions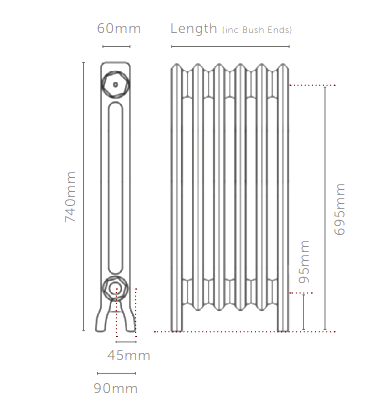 Help with buying a radiator
The first price displayed for each product is for the smallest width available - select the size you require and the correct price for the size will be shown.
Use our Radiator Chooser to calculate the size and BTUS of radiator you need.
Don't fit pipes before radiators arrive due to size variations
Don't forget to buy your valves
We offer a painting service for all of our cast iron radiators
Complementary Products
Select your appropriate accessories for your chosen radiator
We ship worldwide!
We can ship many of our products to any country*. You can request a shipping quote from your basket where we can arrange a shipping cost for you to checkout with.
*excludes fragile and breakable items
Get shipping quote.
Made to your order
Many of our products are made to your specific customer order and for this reason cannot be returned unless defective. Examples are radiators, chandeliers, outdoor lighting, hand painted tiles, hand printed wallpapers, plaster mouldings etc. Other products are cut to order e.g. stair runners, fabrics, stair rods etc and in the same way cannot be returned unless defective.
Painting - cast iron radiators
Other products in this range
Product Group - Georgia Radiators