Christmas is a very special time of year in the UK and our wealth of wonderful Stately Homes are popular at this time of year because not only are they usually all beautifully decorated with Christmas trees, sumptuous decorations and lights, both inside and out, but they often put on special events at this time of year. Here we help you decide which Stately Homes are the best for getting in the Christmas spirit.
----------------------------------------------------------------------------------------------------------------------------
At Chatsworth House they really go to town for Christmas staging an annual themed special event throughout the season - recently the Spirits of Christmas Past, Present and Future visited Chatsworth with 'Oh Dickens! It's Christmas', where Miss Havisham and Fagin held court. It was a celebration of Charles Dickens' best loved works.
Actors playing Fagin and Miss Havisham and others from Dickens' rich cast of characters brought the theme to life, along with room guides in period costume, as they roamed around in the fog and gaslight of Chatsworth's grand rooms. Visitors of all ages could join in the fun by choosing from dozens of character costumes ready to try on and made by Chatsworth's textile team. Rooms throughout the house featured period sets that evoked both the splendour and squalor of Dickensian London - as well as the London docks and Victorian shop fronts, specific scenes from the books, such as Scrooge's bed, were recreated in detail. Thousands of traditional and lavish seasonal decorations and hundreds of metres of ribbon dressed the celebrated Painted Hall, Oak Room, Chapel, State Dining Room and Sculpture Gallery, which also contained 25 real trees, two of which stood more than seven metres tall.
Photos courtesy of Chatsworth House Trust
This enchanting interpretation of books such as A Christmas Carol, Oliver Twist, The Old Curiosity Shop and A Tale of Two Cities featured large-scale illustrations, wall murals, sound and light effects, projections and props. Artists such as the paper sculptor Su Blackwell were working with Chatsworth to help recreate the Christmas spirit that Dickens sought to highlight in the gathering together of families and the enjoyment of food, drink, dancing and games.
Displays also included related items from Chatsworth's own collections, such as letters from Dickens himself to the 6th Duke of Devonshire; first editions of books including Little Dorrit and A Tale of Two Cities; and letters from Duchess Georgiana to her mother from Paris during the uprising referenced in 'A Tale of Two Cities'.
Christmas at Chatsworth spreads beyond the house to include events in the garden and farmyard such as the hugely popular Christmas market; wreath making classes; an evening pea and pie supper and a nativity play in the farmyard starring the farm animals.
The events make use of many costumes made by Chatsworth's textiles team while in-house joiners make the elaborate sets, dressed with individual props and decorations made by staff from across estate.
https://www.chatsworth.org
----------------------------------------------------------------------------------------------------------------------------
When you visit Ightham Mote you will step into a hidden treat as the medieval property opens its doors for the festive season.
You can take a tour of the house and see it dressed for a grand Victorian Christmas. Large real Christmas trees are brought in to set the house ambience. Visitors can savour the sight and smell of the impressive decorated tree, dominating with pride of place in the Great Hall. The grand table is laid out and decorated ready for Christmas dinner, with the silverware places set for the Colyer-Fergussons who acquired the house in 1890. Volunteers keep the large centrepiece in trim every day, and ensure the fire keeps burning in the fireplace.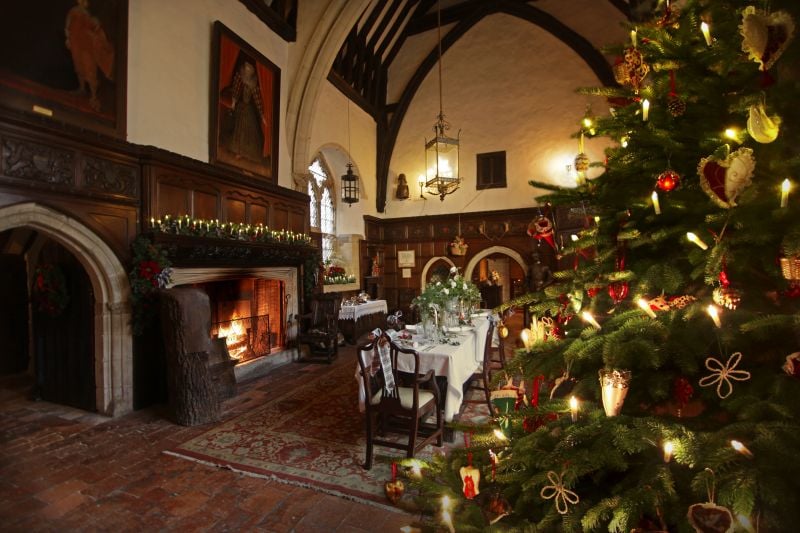 Ightham Mote Christmas Tree (c)Nik Barrie
Visitors can also step inside the 1950s New-England style library, where there is the chance to experience a taste of Christmas in 1950s America - as homage to Ightham Mote's last owner, Charles Henry Robinson. Robinson was not Ightham Mote's only American resident, some years earlier the Palmers had also lived here, of whom William Jackson Palmer was the founder to the Denver & Rio Grande Western, the forerunner of the Union Pacific Railroad. With this in mind, it seems fitting that a toy American steam train trundle around the Christmas tree in the library.
Over the weekend of 30 Nov - 1 Dec, the opening of the house is celebrated with a mini Christmas market of local produce around the carriage circle lawn, and children will also be able to impart their wishes with a visit to see Father Christmas
www.nationaltrust.org.uk/ightham-mote
----------------------------------------------------------------------------------------------------------------------------
Each Christmas, Lyme is decorated in for the holidays in the lavish style of the Regency period, reflecting the heyday of the house in the early 19th century under the ownership of the Legh family.
Like many National Trust properties, the emphasis at Lyme is on natural materials and fresh greenery wherever possible, or at least close imitations which will stand up to a month of seasonal celebrations! Much of the decorations use that most traditional of winter greenery, holly and ivy, but also include rosemary, bay, laurel, and mistletoe.
By the late 18th century, kissing boughs and balls were popular, usually made from holly, ivy, mistletoe and rosemary. These were often also decorated with spices, apples, oranges, candles or ribbons. There was a custom of plucking a berry every time a couple kissed under the bough or ball – the kissing ended when all of the berries were gone.
Regency Christmas at Lyme Park, Cheshire ©National Trust Images/Mike King
The dining room at Lyme Hall features a centrepiece of tropical fruit and fresh flowers alongside more evergreen displays. Oranges, pineapples, along with other out of season fruit and flowers were an ostentatious display of wealth at Christmas, since they were a luxury available only for those who could afford the hothouses to grow them in.
Red ribbons, garlands and fabric are used to reflect the dark wood panelling and red carpeting around much of the house's interiors. Many of the decorations are handmade by Lyme's staff and volunteers, in much the same way that they would have been crafted by the family and servants in previous centuries.
Garlands are attached along the tops of the fireplaces, as well as up the wide bannisters of the main staircase. Ivy winds around the indoor pillars and artificial candles are used extensively to create a cozy glow.
https://www.nationaltrust.org.uk/lyme
----------------------------------------------------------------------------------------------------------------------------
Built in the 1880s by Baron Ferdinand de Rothschild as a place to entertain, Waddesdon was made to dazzle and delight. Inspired by this history, visitors at Christmas are invited to step inside and explore the fantastical displays and unique decorations that bring Waddesdon Manor to sparkling festive life.
© National Trust, Waddesdon Manor. Photo Stuart Bebb
As much of the house is 'put to bed' for the winter months (rooms are closed off from the public to enable deep cleaning and conservation processes to take place), the Christmas period offers a different experience of Waddesdon. Christmas discussions and planning begin as early as January, to determine which aspect of Waddesdon's remarkable history will inspire the festive displays. With around ten 15ft trees adorned with over 10,000 fairy lights, and 3,000 baubles, Waddesdon at Christmas is a sight to behold.
Away from the Manor's lavish interiors, visitors can enjoy an enchanted journey through the grounds, while coloured lights illuminating the Manor's façade see the distinctive Renaissance-style architecture come to life.
Alongside the breath taking decorations is a delicious assortment of festive food and drinks, including the Waddesdon Christmas lunch and handmade mince pies (the Manor Restaurant's chefs make more than 9,000 mince pies, filled with their own special recipe mincemeat that has been matured for over 12 months).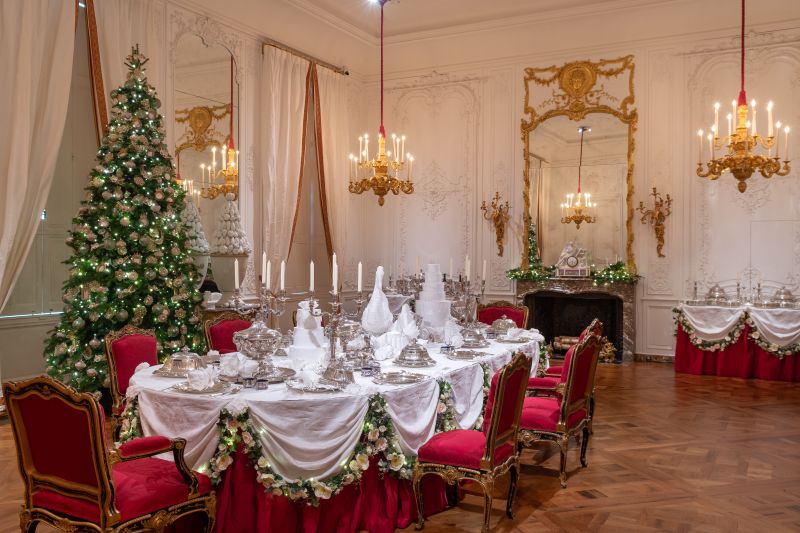 © National Trust, Waddesdon Manor. Photo Mike Fear
Waddesdon's spectacular Christmas Fair, with 86 wooden chalets, is also shopping experience not to be missed. As befits the location, artisan producers, makers and craftsmen will be offering the very finest and, in many cases unique, gifts for friends and family.
Pippa Shirley, Head of Collections & Gardens says 'Christmas is a magical time at Waddesdon, the house, its collections and its beautiful grounds come to life in an entirely different way, and we love seeing families and children enjoying its unique atmosphere, sparkle, glamour and fun. The Manor looks like a fairy-tale castle at the best of times, so at Christmas it is truly enchanting, and with its own special character. The great Rothschild traditions of hospitality and attention to detail are very much to the fore, from the welcome at the front door to the care and attention that the chefs put into making our own mincemeat.'
https://www.nationaltrust.org.uk/waddesdon
----------------------------------------------------------------------------------------------------------------------------
Burton Constable is an impressive Elizabethan mansion, crammed with fine furniture, decorative art and weird and wonderful collections, set in 300 acres of Grade II* listed 'Capability' Brown landscaped Parkland to explore at your leisure. Home to the Constable family for over 700 years, Burton Constable brims with fascinating stories of family characters, including many inspiring women!
Photo Courtesy of © Burton Constable Foundation
In the run up to Christmas this magnificent mansion is festively dressed in a traditional country house style. The Hall is decked with boughs of holly, and a whole range of seasonal greenery and colour besides, to show the cosy intimacy of a Country House Christmas. Even a house as grand as Burton Constable has always been a family home, with all the rituals and traditions of a family Christmas.
Meander upstairs and downstairs through 30 evocative rooms filled with fine art and furniture that will be transformed with seasonal floral displays, stunning decorations and garlands. Children can experience the magic of the hall at its twinkling best as they search for the Christmas Reindeer hidden in each room.
www.burtonconstable.com
----------------------------------------------------------------------------------------------------------------------------
Blenheim Palace is an enormous and most impressive country house in Blenheim, Oxfordshire, the principal residence of the Dukes of Marlborough and one of England's largest houses. It was built between 1705 and 1722, and designated a UNESCO World Heritage Site. It is designed in the English Baroque style and was the birthplace and ancestral home of Sir Winston Churchill.
Christmas is a magical time to visit Blenheim Palace. There is seasonal entertainment with the Palace dressed for Christmas and a trail of lights in the evenings. The Formal Gardens light up every year for an unforgettable after-dark festive trail of lights. You can follow the trail along winding paths, beside tranquil waters and through extraordinary Parkland landscaped by 'Capability' Brown. However you decide to make the most of the festive itinerary, from the Palace's annual decorations to those first signs of frost in the Parkland, a visit to Blenheim at Christmas is sure to get you in the festive spirit.
Photos courtesy of Blenheim Palace
https://www.blenheimpalace.com/
----------------------------------------------------------------------------------------------------------------------------
Castle Howard is one of Britain's finest stately homes, a magnificent historic house in the heart of North Yorkshire. There is so much to explore, including the 18th century House and 1,000 acres of rolling parkland. Recently Castle Howard won 'Best Event, Exhibition or Festival' at the UK Heritage Awards for their 2018 Christmas experience 'The Twelve Days of Christmas'.
Christmas 2018 at Castle Howard was a festival event like no other, the objective was to provide a truly magical visitor experience and encourage more people than ever before to visit. The project was meticulously planned in early 2018 with staff coming together from across the organisation to create a fully cohesive and immersive experience. The event highlighted historical traditions, celebrating the twelve day Christmas holiday. The theme was interwoven with the Howard family history bringing to life stories such as the 12 children of Lady Georgiana, 6th Countess of Carlisle.
The House was professionally decorated by theatre designers Charlotte Lloyd Webber and Bretta Gerecke, with each room reflecting an element of the classic song as well as a 26ft tall Christmas tree, adorned with approximately 3,500 baubles. Enchanting Father Christmas experiences meant that over 2,000 children were able to meet Father Christmas while festival afternoon teas offered gourmet dining with a roaring fire. The whole House really comes alive at Christmas time.
Charlotte Lloyd Webber and her team are back for 2019 and the theme for this year is 'A Christmas Masquerade'. The theme celebrates the House's theatrical roots and the influence of the Italian Baroque on its magnificent architecture and interiors. The House prepares for a grand masked ball inspired by the Venetian Carnival to be held in the Long Gallery spectacularly adorned as the Grand Canal. Amongst the sumptuous decorations and awe inspiring costumes, a troupe of travelling players prepare festive entertainments for the guests. These ebullient, mischievous characters - Harlequin, Colombine, Pierrot and the Zanni Clown are part of the famous Commedia dell Arte who became the much-loved characters of the pantomimes that remain one of our best beloved Christmas traditions. A magical immersive experience that will embody the spirit of the season in true Castle Howard style.
----------------------------------------------------------------------------------------------------------------------------
Hughenden Manor in Buckinghamshire is a stately house with two tales to tell. On the one hand it was the country home of Benjamin Disraeli, Queen Victoria's favourite Prime Minister. On the other, it was the base for a secret map-making operation during the Second World War. The interior of the red bricked Gothicized mansion is laid out as Disraeli would have known it with the main rooms restored to their Victorian splendour and an extraordinary collection of personal memorabilia from the charismatic statesman to discover.
The atmospheric rooms are dressed in a traditional style every Christmas with real trees, lights and handmade decorations in every room. For 2019 the National Trust house and grounds will be decorated for a nostalgic 1940s Christmas to celebrate the opening of new rooms in the west wing used during the war and never before opened.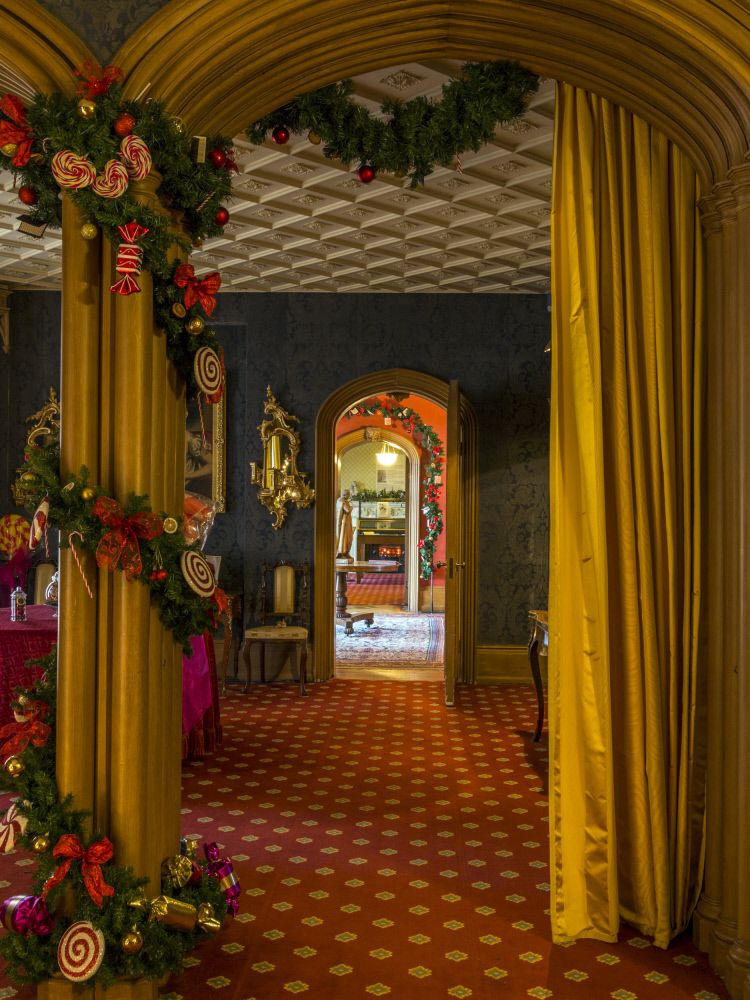 © National Trust, Hughenden Manor. Photo Hugh Mothersole
Touches of vintage and make-do-and-mend will be at the heart of the theme. Visitors will be able to enjoy wonderful handmade decorations by Hughenden's staff and volunteers, all in the 1940s style, from paper chains to pom-poms, lametta to rag-wreaths. Re-purposing and re-using materials will be the order of the day, as it would have been during the lean wartime period for the military and civilian personnel that worked at Hughenden. An element of secrecy will permeate the sights and sounds of the Manor, reflecting the top secret map-making work that was carried out when the estate was requisitioned by the Air Ministry.
Visitors will be able to find out more about the Hillside story and the map-makers themselves in the new display housed in ground floor rooms never before open and that were actually used for map-making in the war.
https://www.nationaltrust.org.uk/hughenden
----------------------------------------------------------------------------------------------------------------------------
At Casterne they open for Christmas tours and teas every year for about 7 days. The house is beautifully and lavishly decked from head to toe with natural and original decorations including many antiques and 3 Christmas trees. The fires are roaring, and they serve mulled wine, give a very brief history of the house, and then ask their guests to wander round all floors in their own time and explore all the rooms. Then they serve a scrumptious Christmas tea, including hot crumpets and scones, homemade cakes, sausage rolls and many more delights.